What is the future of publishing? This is a question I often ask and I believe some publishing houses think they have found the answer.
We are not speaking about the end of paper. No, no, definitely not that. Publishing houses are beginning to see the synergy of creative media. Books are being created with interactive components so readers have to take an active part in discovering the story. Now HarperCollins is taking it to a new level. They just announced a partnership with imbee and the National Film Festival for Talented Youth to establish the
imbee Film Challenge
. Now you might be asking, "what is imbee?" It is a tween social network. Just think Facebook for tweens. To read the official press release
click here
.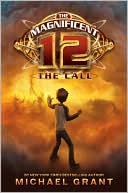 It seems at least one new movie is released in theaters each month that is based on a tween, teen or young adult novel. This contest borrows from that enthusiasm and combines it with the eagerness of YouTube to really bring everything together for tween filmmakers. For this competition young creatives are asked to adapt selected excerpts from
The Magnificent 12: The Call
, the debut novel in Michael Grant's middle-grade fantasy series from Katherine Tegen Books at HarperCollins.
The Call
was released in August, 2010. The next two installments are set to be released this summer and fall.
Visit the
imbee Film Challenge website
for more details.
Want to view "The Call" book trailer?